So much for an original title [post was originally titled "First Post"]. Then again, I can cram a lot of the boring history in here under an uninteresting sounding entry.
When I Started
I believe I started playing poker for fun (not for money) with friends in 2004 when I was 20. I had been watching games on TV, though, from 2001.
Online Poker
I didn't start playing online until December 2006 when I opened an account with Party Poker. I moved to Full Tilt in January 2008 after getting annoyed with Party's customer service. I subsequently stopped playing on Full Tilt a month later because of the lack of available low-limit SnG's (as well as the slow responsiveness of the software on my GPRS connection).
And that brings me to the current stage of my poker development.
Becoming Knowledgeable About the Game
Switching from being an average player who plays for fun - 95% of poker players are losing players, so average is about right - to a break-even player with a better understanding of the game.
Pokerstrategy
At the beginning of February 2008 I found the site Pokerstrategy which offered free starting capital for passing a quiz as well as many articles covering different poker strategies.
After reading the articles on the Short Stack Strategy I took the quiz and passed first time. I was a bit weary of sending my ID for the random ID Check, but after a bit of research found the site was sound, and after a few days I had $50 in my newly created Titan account.
How are they able to give starting capital away for free? A few sites have a similar business model, however I believe that Pokerstrategy provide far more than those other sites do. Most online poker rooms offer an affiliate program that reward referrers.
Pokerstrategy get a portion of the rake and tournament fees paid by its members that used a bonus code when signing up to the room. Pokerstrategy have a member system based on strategy points which equates to the rake/fees paid by the player. This means that the more successful a player, the more material and rewards available (such as rakeback offers, videos, articles, training sessions, freerolls, software, and more).
Short Stack Strategy
I started playing on Titan with Pokerstrategy's Short Stack Strategy (SSS). I did OK but the level I was playing at and the monotonous play caused me to lose concentration easily. In fact, I think my starting capital wasted away because of a combination of that and the stupid Blackjack button.
At this point I wondered if I had the patience to play poker successfully. At no point did I think "at least it wasn't my money I lost" (unlike some on their forum), rather my gambling impulsion had caused me to let down the guys that gave me money to further my advancement in the world of poker.
My view has changed though, and I'll likely write about gambling impulses (and their relation to poker) in another post. In the long term Pokerstrategy will make back at least the starting capital they gave me. My Titan account is linked to them forever. They will get some of the rake for every cash game I play on Titan, as well as some of the entry fee for every tournament I play there. I also created a Pokerstars account through them, so that's two sites they'll get dough from when I play there.
Reload
Bear in mind that the whole time I've been playing online poker I have been unable to work because of a culmination of problems and disabilities. At the time money was extremely tight so it was a case of any money I could afford to deposit was it. If I lost it, I would no longer be able to play poker.
I could just get by if I made a 10 GBP (Great British Pounds) deposit, but it would have to last me for 6 months - there was no way I could spend that every month. Since Titan didn't accept Electron at the time, I had to use Neteller (my complaints about their stringent security will probably make it into a post of it's own). 12 GBP deposit to Neteller and a 20 USD (United States Dollar) transfer to my Titan account - think that came to 11.34 GBP.
So, I have money in my Titan account that I can't afford to lose on Blackjack. It's my own money and it has to last. SSS was too repetitive so I needed a plan to minimize boredom and losses. Re-enter SNGs.
SNGs
I'd previously played SNGs on the other poker platforms I'd used, but I never had a clear strategy. Ax suited, suited connectors, face cards, suited semi-connectors, 72o, all playable right?
Reading Pokerstrategy's Basic and Bronze level articles on SNG strategy I found a minefield of information.
Position? Starting hand strength? Bet sizing? Pot control? Bankroll management? Folding AJs in early position when I could possibly make a Royal Flush - why would I do that? Oh >:XX poker is more complicated than I originally thought. There's also maths involved, I've always liked maths.
Once I got the basic strategy of SNGs under my belt, I started with the 0.50+0.1 USD SNGs. Things seemed to be going OK until a period after my 105th game as evidenced in the following graph. I couldn't seem to finish ITM consistently and found it almost impossible to finish first.
When I nearly touched the 14 USD mark (a loss of 6 USD) my bankroll management requirement of having at least 25 buy-ins for the level I was playing at made me move down to the 0.20+0.04 USD SNGs. Once I made a slight rebound I put in place something similar to a stock market stop-loss order.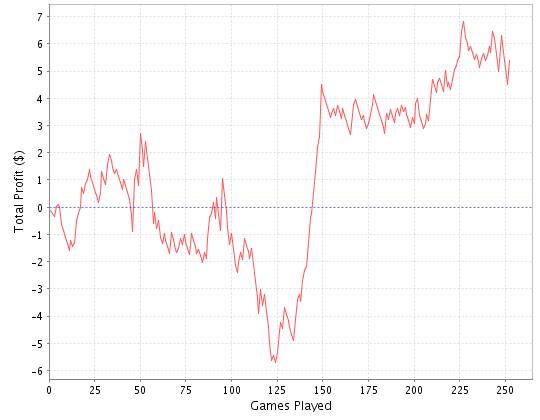 Basically, I could play a 0.50 game but if I finished 5th-10th I had to move back down until I had one buy-in more for the 0.50 level than I did before I played that game. If I finished 1st I could have another 2 goes at that level. If I finished 2nd I could also have 2 goes, and if I finished 3rd I could have 1 more try.
If I finished 4th I could only take another shot at it if I had a reserve attempt from a previous finish. If I finished 2nd then 4th, I could take another go. If I finished 1st then 5th I had to move down.
This stop-loss system (and a bit of luck) helped get me back to break-even and higher in an almost vertical climb. When I play on Titan I play either the 0.50 or 0.20 depending on my current bankroll. Since my BRM requirements - following Pokerstrategy's change in BRM advice for SNGs - is now 50 buy-ins for the current level, I drop to the 0.20+0.04 games if my balance is below 30 USD.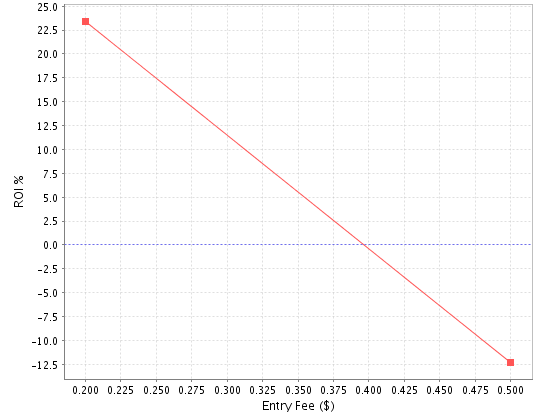 The above graph shows my current ROI on Titan. As shown, I am more successful on the 0.20 buy-ins than the 0.50 buy-ins, but that is likely because I've played a lot more games at the 0.20 level.
Pokerstars
I signed up to Pokerstars through Pokerstrategy and deposited 50 USD. I played some Short Stack Strategy there, and a total of 2 SNGs. I didn't clear the sign-up bonus because I rarely played there.
I found that I need auditory cues to help with my concentration, and Pokerstars doesn't come close enough. I think this is the same reason why I have to use TTS on IRC. A flashing window or a beep just isn't enough, I need to hear vocally what is happening.
This is one area where Titan delivers, but several other poker sites don't. I signed up to absolute poker with a free bankroll but that is just sitting there. For me online poker has to be more than just point and click.
PKR
With a mobile "broadband" (UMTS) dongle bought on ebay, and a pay as you go sim on T-mobile, I now had a connection that was faster than tethering my Nokia 6600 (later 5300). I'd previously tried downloading PKR but it kept stopping with no resume facility. I'd ordered a CD but when I tried to run it after installing I experienced the same problem when it tried updating.
Moving home in September 2008, my mobile "broadband" connection moving with me, and a little bit of spare money from selling my shares in December 2008 (I made a 60 GBP profit over 5 months but needed some money for essential items), seemed like the right time to give PKR another try.

This image is how I looked on PKR when this post was made. PKR is in my opinion how an online poker site should be run and the graphics and emotions are a great thing for me.
The servers are a little slow sometimes, and there aren't as many players online as other sites (US players can't currently play for real money) but it doesn't have the "point and click" problem. My attention doesn't wane quickly and it's the only room where something other than bad plays and bad luck makes me laugh - and the only one where something other than table chat and someone slowing the game make me annoyed.
Video: PKR poker preview 2
Play Video Embedded
Watch Video on YouTube
Google Privacy Policy
Google Cookies
The servers have crashed twice since I started playing in December, but I've received a refund for any game I was in within a few days, and my bankroll management rules mean I haven't had an empty balance whilst waiting.
On PKR I started with SNGs and also a little Short Stack Strategy. Since PKR has rules similar to real life poker rooms, it isn't suitable for SSS because of the rules against limiting (going south, rat-holing, reducing, among other terms for it). I used the Phase Tournaments to earn some points towards my deposit bonus, and finished 4th in the Final Phase winning $200 (as seen in the following graph with the almost vertical line).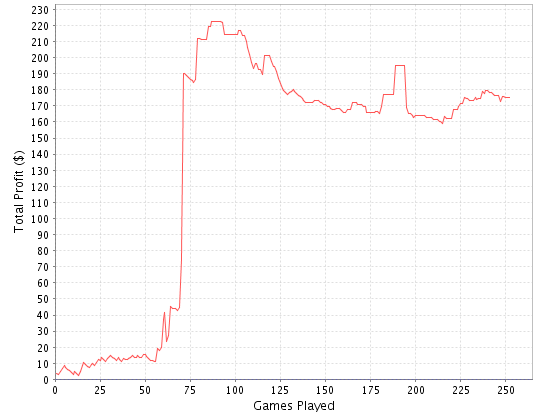 I've lost a bit since that win, but think it is down to variance. I seem to be winning more SNGs at the moment. As you can see in my ROI for PKR in the following graph, my ROI for the 1 USD SNGs is around 5% (it had dropped to about -10%).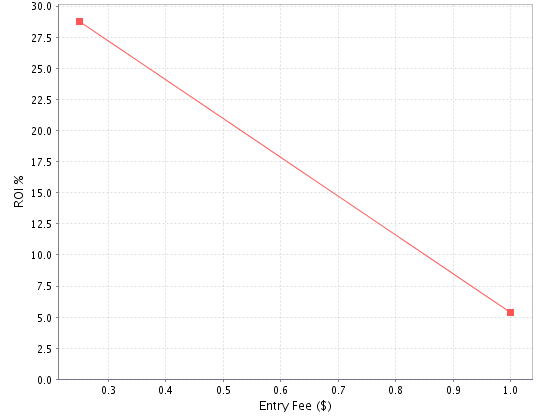 ---
Definitions
SNG

- A sit and go (SNG) is a form of poker tournament that begins as soon as a pre-determined number of players has registered. This is in contrast to tournaments that start at a fixed time regardless of how many players have registered. There are many forms of SNG, some with single tables and some with more, ranging from 2, 6, 10, 20, 50 or more participants and in all poker variants. The only thing they have in common is that they start once they have the necessary players.

Rake

- The rake or chop is the house's cut of each and every pot. A hand where a rake is taken is called a raked hand. The conditions for and amount of the rake are different. Usually, a rake of 5% of the pot is taken as long as a certain threshold amount is exceeded. The amount of the maximum rake per hand is also constrained according to the particular establishment and limit.

Rakeback

- A rakeback is a particular form of bonus program by an online poker platform. A player gets some of the rake he generates back during a certain time interval. On Full Tilt Poker and PokerStrategy, it is 27% of the rake.

Freeroll

- A freeroll is a tournament with sponsored prizes or prize money so that no buy-in is required.
- A freeroll also means a situation in which two players have equally powerful hands, except one player holds a draw that could net him the whole pot if he were to hit it; the second player has no such draw.
Definitions from Pokerstrategy.